Square Meter of "Quadrante 2" Kit Ceramic Wall Tiles.
Design colors: Black, Light Green and Burgundy.
Box containing 42 pieces = 10,76 sqft (1m²).
Measures of each tile: 15,4 x 15,4 cm (6,06 x 6,06 inches).
Tile thickness: 3,7 mm (0,145 inches).
Tiles finish: Glazed.
Box weight: 6kg.
Each box contains: 14 pieces of "Quadrante" Burgundy, 14 pieces of "Quadrante" Light Green and 14 pieces of "Quadrante" Black.
>Images of our instagram: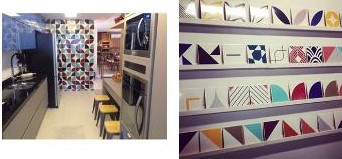 ---
>Do you have any question about how to buy in our site? Click here.
>Images at the top of the page: Placed tiles, Single piece and Arrangement ideas.
>For further information please access our FAQ page.